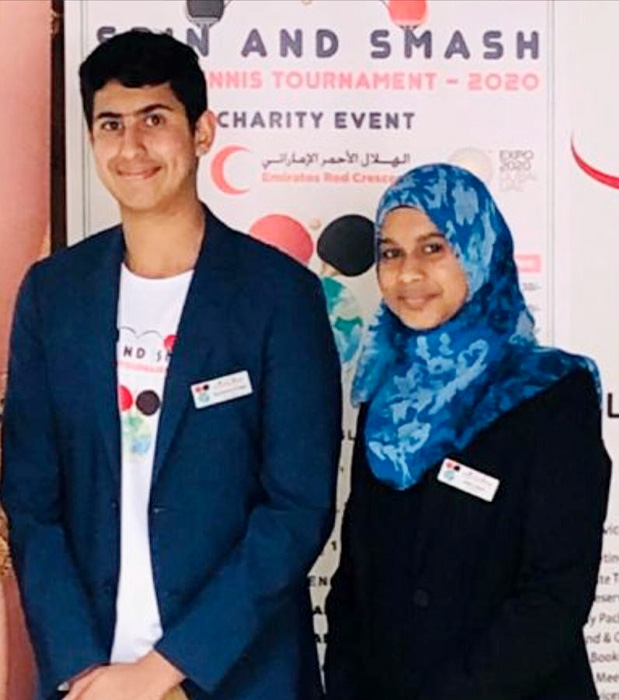 Spin and Smash 2020, A Successful Table Tennis Tournament for Charity
Muhammad and Zahra Vakil
Jumeirah Colleage prides itself on its sporting prestige, but this was taken one step further earlier this year when two JC students organised a national level sporting tournament of 150 people.
Muhammad Vakil, a Year 11 Student at Jumeirah College, and his sister, Zahra from Year 9, recently organised a national Table Tennis tournament with all proceeds going to charity. With over six-months of planning and preparation, the tournament, named 'Spin & Smash', brought together over 150 participants from all over the United Arab Emirates. Muhammad even managed to attract 15 sponsors for the competition which contained five age categories ranging from 18-years-old to 45 and over.
As the tournament began, several impressive players emerged, including former national-level players from India, Philippines, South Africa and United Arab Emirates. The competition ran throughout the day with several victors being declared late on.

Muhammed has already committed to the Spin & Smash tournament next year and credits himself with a passion for education, and a love for Table Tennis – a sport he wishes to elevate to levels similar to Football and Cricket.
"I have always been interested in space and knowing that if I sent a question in meant that it would be read and talked about in space excited me. So I sent in a few questions and one of mine got chosen. I will be asking Sultan Al Neyadi about some of the scariest things that have happened to him so far. This was a curiosity of mine as I don't know what happens in space."
Yusra 7F2
The tournament raised over 35,000 AED for Emirates Red Crescent who have committed the funds towards building schools and classrooms in developing nations. With sponsorship from local industry leaders such as Leader Sport, Jawhara, Universal Lumber and Kanz Jewellery, Muhammad and Vakil also plan to launch a separate women's tournament due to the overwhelming interest in the women's category. They intend to theme the forthcoming challenge around women's empowerment. With further interest from Oman, Iran and Philippines, an international level mixed tournament is also a real possibility.
The brother and sister duo credit Mr O'Connor, Mr Kesterton, Mrs Misra and Mrs Selby for their support and guidance and would like to thank the entire Jumeirah College leadership team for their help and influence.
Congratulations to all involved. We look forward to future Spin & Smash tournaments and to the growth of this ever-popular sport.