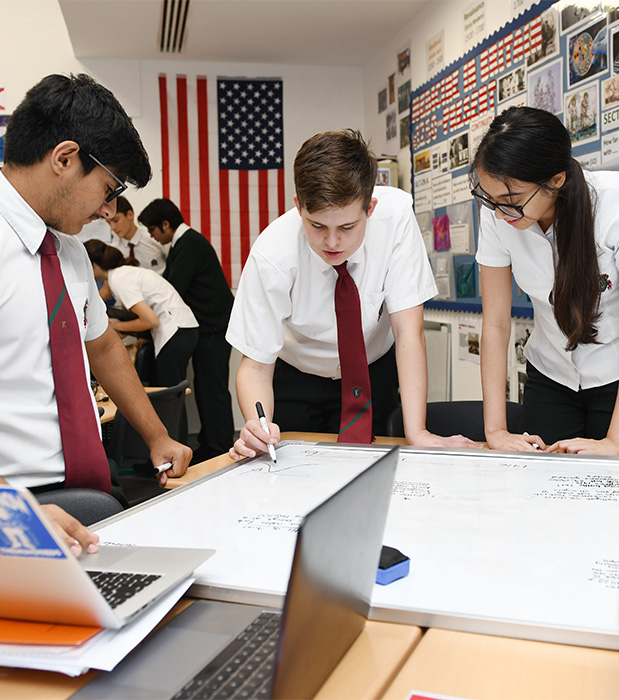 Uniforms
Dress code and uniform
The aim of our uniform is for students to present a neat, work-like appearance at all times and to take pride in being members of Jumeirah College. Personal presentation is therefore very important and a high standard of personal appearance is expected of all students at all times, both inside the College campus and outside in the local community. The students are our ambassadors when they are out in the Dubai community and what they do and say, and how they look reflects on all of us. Students should make sure to create a positive impression at all times.
School Uniform
Students are permitted to wear a watch and girls may wear one small stud earring in each ear lobe. No other piercings or Jewelry are permitted. Long hair should always be tied back. Make-up and nail polish must not be worn in Years 7- 11. Only Sixth Form girls are permitted to wear make-up, but this must be discrete, understated and appropriate for a business environment. Jewelry items of religious significance may only be worn with prior approval from the Head of Year, following a formal written parental request.
The uniform is compulsory throughout the College and can be purchased online through Threads at www.threadsme.com. Please click here to find out how to buy the uniform.
Threads store is located on the ground floor (G09) of the Times Square Centre, off Sheikh Zayed Road. Threads support team: 800 847 3237, [email protected]
We particularly ask for parents' support and cooperation in ensuring that students represent themselves, their families and Jumeirah College well in the local Dubai community and beyond.
Shoes
The school uniform policy requires that shoes should be black (no open toes, heels, boots, canvas, trainers or hybrid versions).

The shoes that are required at Jumeirah College should constitute a more traditional style shoe that students are comfortable in and will suit the daily activities in classrooms, laboratories, technology rooms and other day-to-day activities. We have prepared the attached document to give you a good idea of what we expect at the school. Should you have any further queries, then don't hesitate to contact your son/daughter's form tutor or Head of Year.
PE Kit
The PE kit is compulsory for all students in Years 7 - 11.
All PE uniform is available from Surridge website or Kukri websites.
Please contact the email/helpline if there are any issues:
Kukri: [email protected] (Tel: 04 425 4129)
Surridge: [email protected] (preferred method for contact) (Tel: 043 686510)
*Students can wear either Kukri or Surridge JC branded kit.
Appearance
All students may wear a watch.
Girls are allowed to wear one small stud earring in each ear lobe and these should be removed for PE and swimming. No other piercings are permitted. Make-up and nail polish may not be worn. Sixth Form girls are permitted to wear discrete make-up, nail polish, a ring, bracelet and necklace as befitting a business environment. Jewellery items of religious significance may only be worn with prior approval by the College, following a formal written parental request.
Shirts/blouses should be of an appropriate size (not overlarge) and boys' shirts should be properly tucked in at the waist at all times.
Ties should be tied in a small neat knot that covers the fastened top button.
Shoes should be polished regularly.
When sweaters are not being worn they should not be tied around the waist.
Full and correct uniform must be worn in, and whilst travelling to and from, College. This also applies after school and travelling home after activities and on all College trips unless otherwise instructed by a member of staff.
Students are reminded that they should change out of College uniform and into casual clothes at the end of the day to attend social events.
Students should wear full school uniform to all Parent Teacher Consultations and other formal College events.
Hairstyles
Girl's hair should be tied back fully off the face in one or two braids or ponytails. The sensible use of hair accessories is acceptable to keep hair orderly and neat eg. Alice band, hairband, clips, slides, elastic bands etc. as long as they are plain white, dark blue or black.
Boys' hair must be well off the collar at the back and off the ears and face, no shorter than a number 2 barber cut. Shaved heads are not acceptable. Boys are expected to be clean shaven as this is also part of their neat and businesslike personal presentation. If a boy wishes to refrain from shaving for religious reasons, parents are requested to communicate directly with the form tutor.
Student's hair must be of a natural colour rather than bright, obvious or "unnatural", and be neat and of a modest style. Hairstyling products (non coloured gel, wax, mousse etc.) can be used to style hair in a neat and tidy manner, but not to create exaggerated hairstyles, for example, spikes. If a hairstyle contravenes these requirements the student will be requested to amend this with immediate effect and if this is not possible they will be required to remain at home until such time as their hair has returned to an acceptable condition.