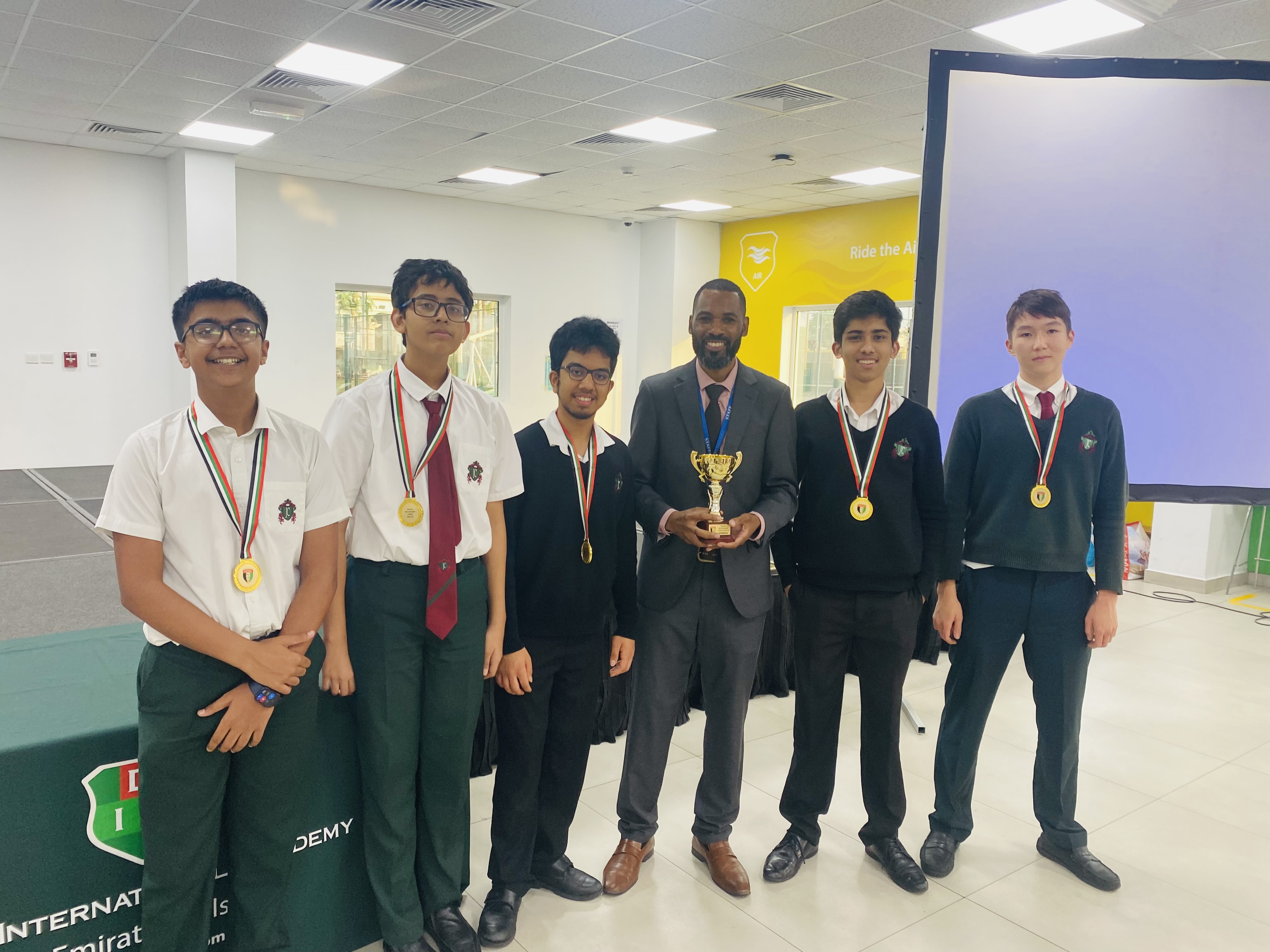 DASSA Chess Championship 2022-23
DASSA Chess Championship 2022-23
The Jumeirah College students were thrilled when they were announced as winners of this year's DASSA Secondary Chess tournament. The tournament was the first-ever Chess event the Dubai Affiliated School Sports Association (DASSA) organised, attracting 13 participating schools. Each school sent five of their most skilled chess enthusiasts to compete in a 5-round Swiss system Chess Championships, with 5-minute + 3-second increment Blitz games. Jumeirah College's team consisted of Daniel Merchant, Nikunj Goenka, Talal Arip, Shaurya Garg, and Vivaan Rana coached by Mr. Evans Chikasa.

From the first round, Jumeirah College students showed determination to win the championship. They scored an impressive 4.5/5 points in round 1, 4/5 points in round 2, and a perfect 5/5 points in round 3. JC was in the lead by the fourth round with 16.5/20 points and only needed a few draws to secure the championship. Despite tough competition in the final round, they finished with 3/5 points, earning 19.5/25 points and claiming the title.
Individual players also showed brilliance, great skill and JC core values. Talal Arip was a marvel to watch, winning all his games and achieved 5/5 points, making him the tournament leader. Shourya Garg came in third place, sharing points with the second-placed student with an impressive 4.5/5. Vivaan and Nikunj both earned 4 points each.

Jumeirah College students are excited about the upcoming 2023-24 DASSA Secondary Chess Championship as they aim to defend their title. Chess is a highly sought-after extracurricular activity at Jumeirah College, with more than 120 students enrolling in the 2022-23 academic year.