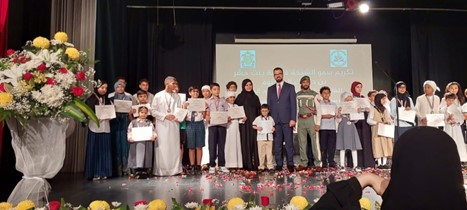 Al Kiraam Al Bararaah
Astronaut Sultan Al Neyadi
We, as Jumeirah College, recognize the importance of Quran as part of the Emirati Culture. Moreover, we are aware that every Muslim family is keen on sending their child to a Quran school at some point. Therefore, we supported this event this year, and will support it in the upcoming years.

Rob Kesterton
Principal
Jumeirah College has hosted a highly prestigious competition this year, the Al Kiraam Al Bararaah Competition, Quran competition, with forty-five schools in attendance from across Dubai. Students participating in the competition come from primary schools, secondary schools and even Post 16. Next year, we are looking forward to targeting all UAE schools.
Today, we are holding this event recognising the top ten winning students who were previously selected by external judges from the Islamic Affairs and Charitable Activities Department in Dubai, along with the best-performing students from each of the participating schools. Her Highness Sheikha Fatema Bint Hasher Bin Dalmouk Al-Maktom is presenting the awards as a gesture of support from her Highness to such important events.
Our vision in the next round is to target all Emirates schools, the government schools as well as the private ones. This is derived from HH Sheikh Mohammed Bin Rashid's vision. This initiative is one of thousands, if not millions, of brilliant ideas that His Highness built Dubai upon.
We would like to congratulate Taha Ali Hussein from The National Charity School for winning the first place. He deserves it."
Mr Nabhan
Head of Arabic A & Islamic Education
Event Coordinator
"I have always been interested in space and knowing that if I sent a question in meant that it would be read and talked about in space excited me. So I sent in a few questions and one of mine got chosen. I will be asking Sultan Al Neyadi about some of the scariest things that have happened to him so far. This was a curiosity of mine as I don't know what happens in space."
Yusra 7F2
Mr. Greenfield has been involved with space education for over 25 years. Starting his space career as an associate-teacher at NASA's International Space School in Houston, Texas, he developed a global academy which allowed over 300 students from 40 countries to graduate from the school over a period of 15 years as they went on to study STEM topics at university. Many of his former Space School students are actively involved with the space program at agencies around the world. While in Houston, Mr. Greenfield developed strong links with many of the astronauts and engineers who worked at NASA's Johnson Space Center and continued those links when he moved to teach in the Middle East. As part of his ongoing space education legacy, he has allowed students from around the Middle East region to engage with the pilots and future astronauts of Virgin Galactic as well as holding other ARISS events for students in Kuwait. Mr. Greenfield also arranged presentations for his students with NASA astronauts from the Johnson Space Center as well as other NASA engineers who are developing concepts for the future of human space exploration. Mr. Greenfield was also a keynote speaker at an event at UNESCO where he discussed the future of space education and the need for global partnerships to enhance the STEM provision for future generations.