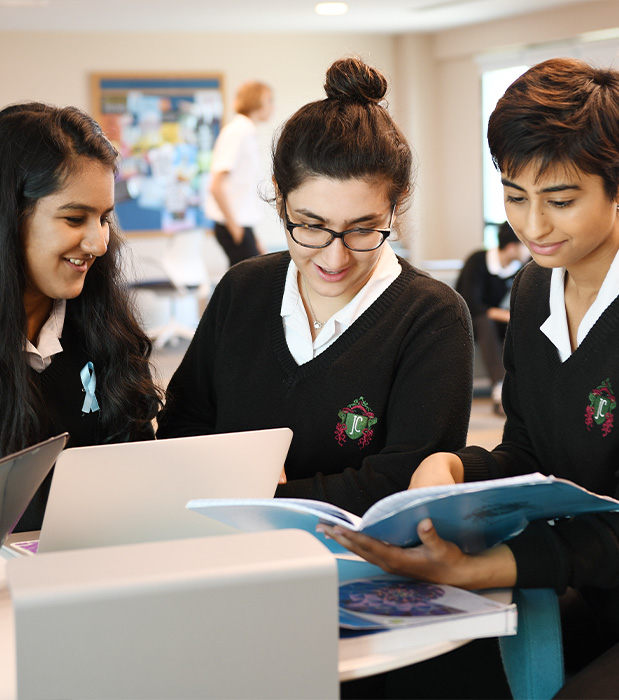 Course Options
Options and choices for students
All students follow a common curriculum that ensures continuity of study for those students transferring to or from other English Curriculum schools around the world.
We offer an expansive range of subjects to cater for all of our students' strengths, interests and aspirations. You can download the full prospectus here:
Key Stage 4 GCSE Prospectus 2020 - 2022
Sixth Form Prospectus 2020 - 2022
The following subjects are available:
Key Stage 3 – Years 7, 8, and 9
English
Mathematics
Science
French
Spanish
Arabic (for all)
Islamic Studies (for Muslim students)
Design Technology
Drama
ICT
Geography
History
Music
Art
Physical Education
PSHCE
Cultural Studies
Accelerated GCSEs in Core Subjects are studied in term 3 of Year 9.
Key Stage 4 - Years 10 and 11
Students in Years 10 and 11 study GCSE courses in up to nine examination subjects.
Compulsory (4 GCSE subjects)
English Language
English Literature
Mathematics
Science
Compulsory non GCSE subjects (do not require examination)
PSHCE or Islamic Studies
Core Physical Education
Optional (choose 4 subjects)
Arabic (Ministry)*
Arabic (Second Language)
Art & Design
Business Studies
Computing
Design Technology
Drama
Economics
French
Spanish
Geography
History
ICT
Music
GCSE Physical Education – Full Course
Psychology
Triple Science
*Those students registered with Arabic passport are required by law to study Ministry Arabic as one of their four options.
Sixth Form – Years 12 and 13
During these final two years of College, all students study AS and A Levels. We pride ourselves in offering a wide range of subject areas that help to prepare students for Higher Education and the professional world.
With key leadership skills as a strong priority, Sixth Form students are challenged to accept and develop their responsibilities as citizens of the world.
For the full list of A Level courses, please see here Sixth Form Prospectus 2020 - 2022