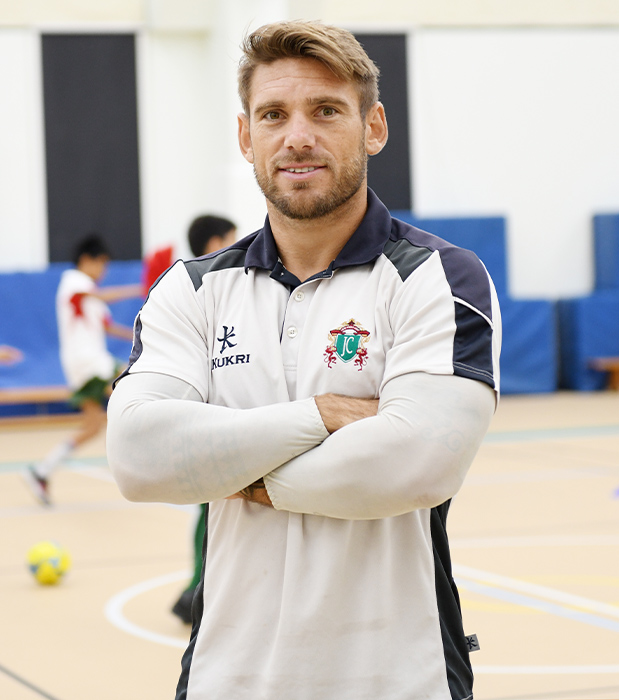 Pro Rugby with Matt Richards
Matthew Richards
For Matthew Richards - coffee aficionado, lifelong Bristol Bears supporter, professional rugby player and PE Teacher at Dubai's Jumeirah College (JC) – his love of Rugby Union has been his ticket to travel the world and help promote the sport.
Jean-Pierre Rives, the great icon of French Rugby Union, famously said, "The whole point of rugby is that it is, first and foremost, a state of mind, a spirit". In keeping with this view of the sport, Matthew mentors his students so they can discover themselves and what it means to be a team.
"To me, rugby represents far more than a fun and challenging physical activity alone,'' says Matthew. "It creates deep-rooted friendships, formed from being able to outthink and outflank the opposition as a unit, and having the courage and commitment to come through for your teammates, in a full-contact sport."
Learning from experience, and passing it on
Born in the UK, Matthew's professional career has included taking to the field for English club Newcastle Falcons and Western Force in Perth, Australia. He has since represented the UAE as part of the team that gained Division 1 status in the 15-a-side version of the game. He was also vice-captain when the UAE secured international status in the Asia sevens tournament.
"International rugby requires a lot of travel and JC have been excellent at accommodating my commitments. In turn, I come back to my students with drills and insights learnt from coaches at the pinnacle of the game, giving them access to up-to-date training principles that accelerate their growth," says Matthew. "I believe students can derive tremendous value from teachers who are applying their skills at the highest levels in their field."
"Everything about evolving as a rugby team touches everyone involved...Mentoring a team is really about helping individuals discover themselves. It's impossible for a coach to not be shaped by that process as well."
Growing as people, together
In JC, Matthew has found an institution that reflects his commitment to investing in the personal growth of students and staff. "The approach at Jumeirah College centres on people, and I have personally benefited from this as well," says Matthew. "I plan to keep playing rugby for as long as possible, with aspirations of helping the UAE compete in the Rugby Sevens World Cup. The school has been very supportive by giving me the freedom to pursue these goals."
Matthew's approach of passing on learnings from his experiences at the highest level has not only benefited his students, but also left a lasting impact on him. "Everything about evolving as a rugby team touches everyone involved," he says. "Mentoring a team is really about helping individuals discover themselves. It's impossible for a coach to not be shaped by that process as well."