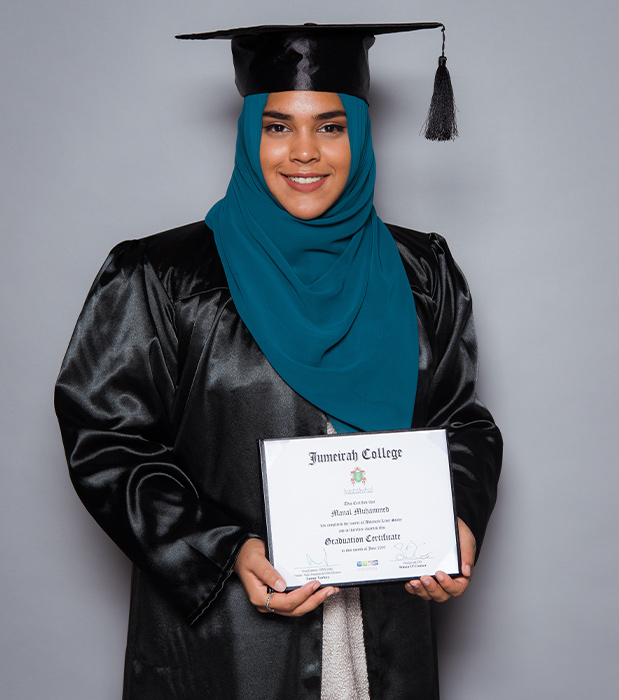 2019 Sportswoman of the Year
Manal Riza Muhammed
Born and raised in Dubai, with family roots in Sri Lanka, 18-year-old Manal Riza Muhammed first joined Jumeirah College for sixth form, to study biology, chemistry, maths and psychology for her A levels.
Having moved to the school after a 10-year stint at her previous one, she remembers being a little intimidated by the change and wondering how it would go. "I had the usual worries," says Manal. "I wondered if I would have any trouble making new friends and fitting in. I'd been actively involved in sports at my old school, and wondered if I'd be able to continue this at Jumeirah College."
Finding a community through sports
Being a sportsperson proved to be a way for her to build new relationships at Jumeirah College. Before long, Manal was representing the school in netball, football, basketball, rounders and athletics.
"My favourite sporting memory would have to be playing netball at the Dubai Rugby Sevens," she says. "It was definitely a once-in-a-lifetime opportunity to be part of such a huge sporting event."
By the end of her stay at Jumeirah College, Manal was awarded the title of Sportswoman of the Year 2019, as a Year 13 student.
Thriving in a strong support system
A young woman of many diverse talents, Manal is also a perfectionist when it comes to her academic pursuits. She found the increased complexity of Year 13 mathematics hard to deal with at first, but that was soon a thing of the past.
Manal continues: "With help and guidance from my teacher, Miss Chamberlain, I found myself developing an interest in mathematics and ended up actually enjoying learning it."
During her first year at Jumeirah College, Manal joined the school's medicine society – a group of students with the common goal of becoming doctors. Although that experience allowed her to understand that being a physician was not for her, she also discovered she had an interest in physiotherapy.
-
Manal completed an Introduction to Counselling course as part of her complementary studies curriculum, as well as a teaching experience with primary school children at GEMS Wellington International School in Dubai. "Working with children is a very challenging, yet rewarding opportunity," says Manal. "Their behaviour tends to be quite unpredictable, but the joyful nature of young children also makes the experience refreshing."
"For me, the best thing about being a student at Jumeirah College was the supportive teachers and counsellors."
Onward to new adventures
These varied, hands-on experiences helped Manal choose physiotherapy as her elective of choice for her university education. She is now studying at Monash University in Melbourne, Australia, pursuing her dream and hoping to eventually specialise in pediatric physiotherapy, inspired by her teaching experience.
"It will be challenging to move to a new country and begin a new stage in my journey, but if there's anything my time at Jumeirah College has taught me, it's that embracing experiences is the only way to grow and thrive."