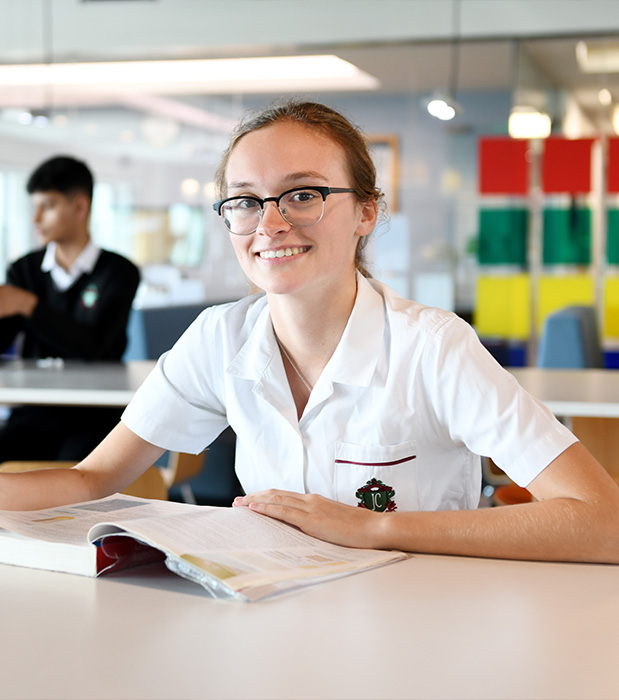 For the Love of Music (and Golf)
Taking to the stage
When Amber Waite moved to Dubai eight years ago, she couldn't have guessed that her new home would introduce her to an all-consuming passion to rival her lifelong love of music.
As a multi-instrumentalist who plays the piano, trombone and harmonica, Amber has always been surrounded by music. Yet while her previous home in Beaconsfield, England allowed her to keep up with her music, it would have struggled to facilitate her more recent obsession with golf.
"Coming from a small, rainy village in England, sport was a very limited activity," says Amber. "Jumeirah College encourages students to participate in a lot of diverse activities, and I would never have enjoyed so many different hobbies, experiences and achievements had I not been a student at the school."
A love for music
Jumeirah College has given Amber a stage – quite literally – to explore her musical talents more fully than ever before. She believes that the many opportunities she has had to perform since joining the school in Year 7 have made her a better musician.
"The concerts I've been a part of, because of the music programme at the school, have helped develop my performance skills and made me more confident on stage," says Amber.
"I've also been encouraged to share my musical knowledge among younger year groups, giving me the opportunity to explore a leadership role."
Amber's musicianship and talent led to her winning the 2018 GEMS Young Musician of the Year Award, and having the chance to perform at the BSME Young Musician of the Gulf event in Bahrain.
Discovering the sportswoman within
"Since coming to Jumeirah College I've been able to be part of many of the school's sports teams," says Amber. "I have played football and rounders competitively, but my favourite sport is golf."
Amber joined the Emirates Golf Club Junior Elites in September 2019 – an intense six-day-a-week commitment, with multiple sessions before school. "The programme was demanding, but it helped take my golfing skills to a new level," says Amber. "All the hard work paid off when I won the ladies doubles match play at the Omega Emirates Matchplay Championships and placed runner-up in the ladies singles event."
-
A holistic achiever
Amber credits Jumeirah College's motivated and committed teachers, as well as its all-embracing approach to education, for her many successes.
She goes on: "I've benefited from one-on-one sessions with teachers and the school's 'Support For Learning' department. In fact, I began Year 10 on a Grade 3 in the English subject but ended my two-year GCSE course with a Grade 9."
As if these achievements weren't enough, Amber went on to win the Sheikha Fatima Award in Year 10 and the COBIS Award in 2017. Along the way, she also found time to ride a bike from Thailand to Cambodia, raising AED 54,000 for breast cancer awareness.
"The school imparts a broad education and encourages participation in areas as diverse as science, sports and the arts."