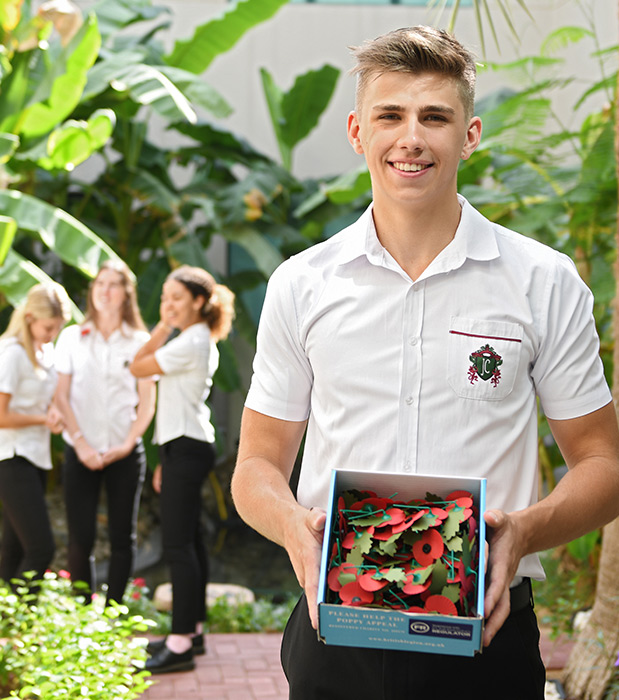 The Face of Charity and Service
Benjamin Hetherington
Born in New Zealand, Benjamin Hetherington has lived in Dubai since 2009. Currently a Year 13 student, he has been at Jumeirah College since joining in Year 7.
An avid sportsperson, Benjamin has played rugby for the Dubai Hurricanes for nine years and as part of the Jumeirah College team ever since joining the school. For three years he has been part of the school's senior rugby team at the Dubai Sevens, and he has also been coaching the school's U14s for three seasons, alongside faculty member Mr. Pedder.
Benjamin's interest in sports extends beyond rugby to encompass skiing, athletics and sailing. He represented the school in athletics in the DASSA league and Fab 5, and has been awarded the Stage 1, 2, 3, 4 and assistant instructor certifications for sailing, which are approved by the Royal Yachting Association.
A calling to serve
As remarkable as Benjamin's sporting achievements are, he has now taken on an even more admirable responsibility as Head of Charity and Service at Jumeirah College. "I enjoy helping people and the feeling of doing something good for society," says Benjamin.
Inspired by his experience in previous years, Benjamin envisions expanding the impact of the initiative to an even larger scale, as the committee's head.
-
Coming together to make a difference
Benjamin's tenure at the helm features a committee comprising 56 members, from all years and age groups in the school. Their goal is to maximise participation among students, parents and staff and raise money and awareness for various causes.
"We work closely with the wider Jumeirah College community, incorporating their suggestions and ideas," says Benjamin. "It is my job to oversee all charity and service activities, and host an event every week or two."
"I was deeply inspired by the previous Head, Alice Jordan, while I was a member of the charity committee. She did a fantastic job and was able to get a big section of the student body involved and helped raise AED 132,000 for the Dubai Cares initiative."
Initiatives that the committee has pursued in the 2019 calendar year include raising money for the Al Jalila Foundation - for breast cancer awareness and men's mental health awareness as well as raising money for the Dubai Cares initiative.
Benjamin's plans for the year are ambitious and varied. "We have a number of events and activities throughout the year," he says. "The big event is a talent show, open to students, teachers, support staff and parents. Our calendar for the year includes SEWA days, bake sales, box appeals, sporting events and much more. It's a busy schedule, but knowing that we are making a difference to the lives of others, keeps us all motivated and keen to do our bit."
-
More Photos of Benjamin