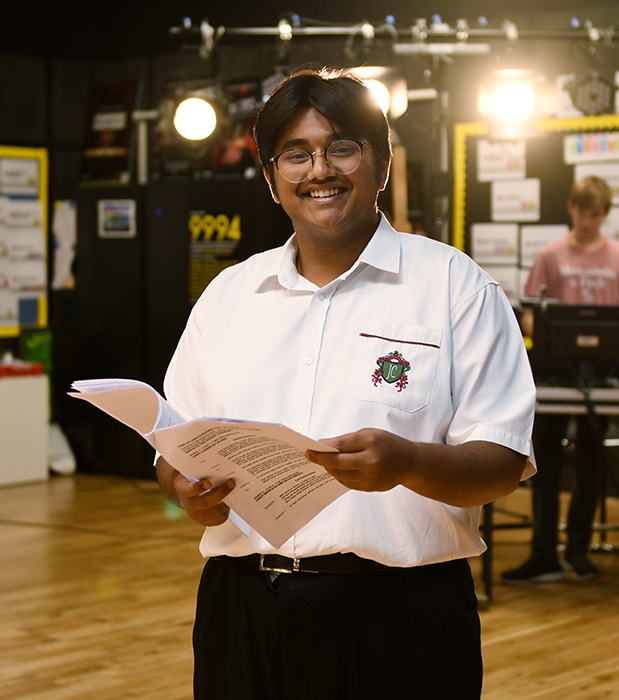 Burhan Kathawala - Actor, Musician, Renaissance Man
Burhan Kathawala
Legendary American actor and acting teacher Sanford Meisner, creator of the Meisner technique, defined his art in a simple but profound way: "Acting is behaving truthfully under imaginary circumstances."
Burhan Kathawala, Jumeirah College's Head boy for the 2019-20 academic year, is an avid thespian whose diverse interests and abilities have given him a wide palette of experiences, from which to add authenticity to the roles he plays. Of course, it also helps that he identifies himself as a truly international individual. "I was born in Dubai, but I am from India, and half of my family is Yemeni," he says.
Principal drummer for two years with the Jumeirah College jazz band, Burhan also sings and plays the ukulele. He appears to have an affinity for water when it comes to his preferred sporting activities, which include swimming, kayaking and paddle boarding. As if that wasn't enough of a measure of his well-rounded abilities, Burhan is no slouch when it comes to his academic record, too.
An enthusiastic supporter of Jumeirah College's approach to the holistic development of students, Burhan's choice of chemistry, biology and drama as subjects for his A levels reflects this.
"Now that I'm making specific choices for higher education and putting in my university applications, the support the career counselor and teachers at the school have given me has been fantastic," says Burhan. "I hope to pursue a career in medicine however am applying to do a Foundation Diploma at drama school in this upcoming year"
"I grew up enjoying subjects such as English, maths and the sciences, but my passion for music and drama also grew in parallel with the rest of my curriculum."
Star of the show
Benedict Cumberbatch, Sir Ian McKellen, Adrien Brody and Joaquin Phoenix are some of
Burhan's favourite actors, and he's quite the leading man in his own right as well. In this final year at school, Burhan is playing the lead in "Romantic Romeo", Jumeirah College's abridged and musical take on the Shakespeare classic Romeo and Juliet.
"I was excited to apply all the years of training in theatre that I got at the school, to create an interesting and realistic character," Burhan says. "I have also been awarded a distinction in the LAMDA Grade 8 Gold Solo Acting exam, which I largely attribute to the training I received at school."
One thing is clear: the future beckons, and whether it is Burhan's love of stage and screen or medicine, he is set on a successful journey that has only just begun.