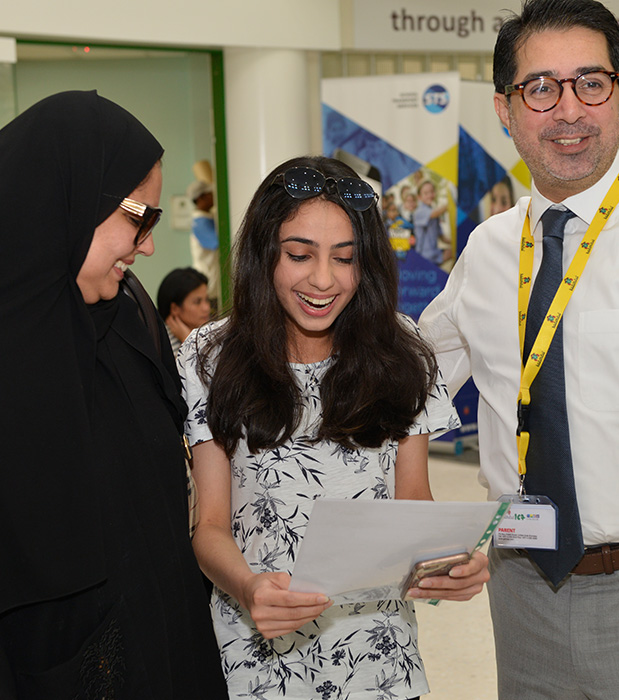 Outstanding GCSE and A-Level Results
Examination Results
This year, students are less likely to have missed their required grades, because the lottery of exam performance has been removed. Reliance on Centre Assessment Grades will have provided a more positive situation for the majority. Certainly the majority of our students will have made entry requirements for their first choice A Levels, and those who haven't will be supported in making the most appropriate alternative choices.
This is a perennial issue that schools face, and we are well versed in supporting students through these challenges. Firstly, we have a full time careers advisor, with significant experience. Students are able to book zoom calls with her in order to discuss their options and access courses that meet their grade profile. This will compliment the discussions that have already taken place during Year 11.

We have a dedicated pastoral team of UK trained, experienced specialists, who can best advise students on subject combinations, and are able to have those honest conversations with students about suitable pathways.
Our heads of department are data rich and savvy. This enables them to explain clearly to students the source of grades, with full transparency.

We have an excellent exams officer, who has been working tirelessly to keep parents abreast of the changing situation regarding appeals. She will support families with the post-results services available this year, offering expedited and expert administration.

Our students were all placed in their first choice A Level options, for those subjects they were anticipated to meet entry requirements for. They will now have the opportunity to change their courses via the Vice Principal for curriculum. This guidance will be sent out alongside results.

Finally, we have a wraparound support team, including a counsellor, and experienced sixth form team who can advise students particularly disappointed with results of their optimal pathway beyond GCSEs. Mr Robert Kesterton, Vice Principal.
Results Table
| | | | |
| --- | --- | --- | --- |
| I/GCSE results | 2021 | 2020 | 2019 |
| No. of students in I/GCSE level cohort: | 160 | 158 | 153 |
| % of cohort entered for I/GCSE exams | 100 | 100 | 100 |
| No. of exam entries | 1459 | 1448 | 1470 |
| % of exam entries graded A*/9-8 | 56 | 47.5 | 38.2 |
| % of exam entries graded A*-A /9-7 | 81 | 73.3 | 65.1 |
| % of exam entries graded A*-B /9-6 | 92 | 90.6 | 83.5 |
| % of exam entries graded A*-C /9-4 | 99 | 99.9 | 98.9 |
| % of students achieving 5 A*-C/ 9-4 including English and Maths | 99 | 100 | 99 |
| Overall student pass rate A*-C | 99 | 99.9 | 98.9 |
| Number of students excluded from the statistics (teachers/resits/non-students etc.) | n/a | n/a | n/a |
| Highest number of grades achieved by an individual student | 1A* 9(9s) | 2A*s, 8(9s), 1(8) | 2A*s, 9(9s), 1(8) |
| | | | |
| --- | --- | --- | --- |
| A Level results | 2021 | 2020 | 2019 |
| No. of students in A level cohort: | 145 | 144 | 140 |
| No. of exam entries | 400 | 442 | 437 |
| % of exam entries graded A* | 30 | 23.8 | 16.5 |
| % of exam entries graded A*-A | 70 | 63.3 | 48.5 |
| % of exam entries graded A*-C | 99 | 98.9 | 94.7 |
| % of exam entries graded A*- E | 100 | 100 | 99.8 |
| Overall pass rate A*-E | 100 | 100 | 99.8 |
| Number of students excluded from the statistics (staff, non-students etc) | n/a | n/a | n/a |
| Highest number of grades by individual students | 5 x 4A*s | 3A*s, 1A | 4A*s, 1A |
A Level Examination Results 2020-2021
70.8% of all grades A*-A
94.5% of all grades A*-B
Top Performers
| | | | | | | | |
| --- | --- | --- | --- | --- | --- | --- | --- |
| Name | QCA Points | Entries | A* | A | B | C | |
| Nour Emara | 1200 | 4 | 4 | 0 | 0 | 0 | 0 |
| Varun Mittal | 1200 | 4 | 4 | 0 | 0 | 0 | 0 |
| Myome Mortimer-Davies | 1200 | 4 | 4 | 0 | 0 | 0 | 0 |
| Harishankar Shikkulal | 1200 | 4 | 4 | 0 | 0 | 0 | 0 |
| Ibrahim Yusufali | 1200 | 4 | 4 | 0 | 0 | 0 | 0 |
| Zara Dattani | 1170 | 4 | 3 | 1 | 0 | 0 | 0 |
| Fariya Umer | 1170 | 4 | 3 | 1 | 0 | 0 | 0 |
| Sydelle Bhalla | 1140 | 4 | 2 | 2 | 0 | 0 | 0 |
| Nitya Bhat | 1140 | 4 | 2 | 2 | 0 | 0 | 0 |
| Eisa Bin Hafez | 1140 | 4 | 2 | 2 | 0 | 0 | 0 |
| Vivek Kunthe | 1110 | 4 | 1 | 3 | 0 | 0 | 0 |
| Sahib Moorjani | 1110 | 4 | 2 | 1 | 1 | 0 | 0 |
| Charlie Kajo | 1080 | 4 | 1 | 2 | 1 | 0 | 0 |
| Sanya Sharma | 1080 | 4 | 0 | 4 | 0 | 0 | 0 |
| Sophiya Wain | 1080 | 4 | 1 | 2 | 1 | 0 | 0 |
| Tariq Abulohom | 900 | 4 | 0 | 1 | 1 | 1 | 1 |
| Krish Kapoor | 900 | 3 | 3 | 0 | 0 | 0 | 0 |
| Ethan Kesterton | 900 | 3 | 3 | 0 | 0 | 0 | 0 |
| Hamid Reza Khademi Mansour | 900 | 3 | 3 | 0 | 0 | 0 | 0 |
| Manahil Khatri | 900 | 3 | 3 | 0 | 0 | 0 | 0 |
| Sudiksha Menon | 900 | 3 | 3 | 0 | 0 | 0 | 0 |
| Sudhanshu Navalkar | 900 | 3 | 3 | 0 | 0 | 0 | 0 |
| Si Min Saw | 900 | 3 | 3 | 0 | 0 | 0 | 0 |
| Nysa Sethi | 900 | 3 | 3 | 0 | 0 | 0 | 0 |
| Arvind Sethu | 900 | 3 | 3 | 0 | 0 | 0 | 0 |
| Manaar Vakil | 900 | 3 | 3 | 0 | 0 | 0 | 0 |
| Nashmeya Ali | 870 | 3 | 2 | 1 | 0 | 0 | 0 |
| Priscille De Mascarel | 870 | 3 | 2 | 1 | 0 | 0 | 0 |
| Saphia Fikree | 870 | 3 | 2 | 1 | 0 | 0 | 0 |
| Viswanath Rohan Goda | 870 | 3 | 2 | 1 | 0 | 0 | 0 |
| Yusra Habiba Khader | 870 | 3 | 2 | 1 | 0 | 0 | 0 |
| Haya Khan | 870 | 3 | 2 | 1 | 0 | 0 | 0 |
| Ananya Krishna | 870 | 3 | 2 | 1 | 0 | 0 | 0 |
| Shrey Kumar | 870 | 3 | 2 | 1 | 0 | 0 | 0 |
| William Liu | 870 | 3 | 2 | 1 | 0 | 0 | 0 |
| Rayyan Malik | 870 | 3 | 2 | 1 | 0 | 0 | 0 |
| Kaamilah Moola | 870 | 3 | 2 | 1 | 0 | 0 | 0 |
| Mathilde Tourniaire | 870 | 3 | 2 | 1 | 0 | 0 | 0 |
| Ashleigh Wilson | 870 | 3 | 2 | 1 | 0 | 0 | 0 |
GCSE Results 2020-2021
81.2% of all grades A*-A
97.1% of all grades A*-B
Top Performers
| | | | | | | |
| --- | --- | --- | --- | --- | --- | --- |
| Name | ALPS Points | Entries | 9 | 8/A* | 7/A | 6/B |
| Haizea Herrera | 89.5 | 10 | 9 | 1 | 0 | 0 |
| Sairam Ravi | 88.5 | 10 | 7 | 3 | 0 | 0 |
| Dominika Pawlukojc | 87.5 | 10 | 7 | 3 | 0 | 0 |
| Dalia Petric | 87.5 | 10 | 7 | 3 | 0 | 0 |
| Raeyaan Bengali | 87 | 10 | 6 | 4 | 0 | 0 |
| Eunhee Char | 86.5 | 10 | 5 | 5 | 0 | 0 |
| Kian Ethan Farias | 86 | 10 | 6 | 3 | 1 | 0 |
| Diya Marwah | 86 | 10 | 6 | 3 | 1 | 0 |
| Halima Jawed | 85.5 | 10 | 6 | 3 | 1 | 0 |
| Joseph Friar | 84.5 | 10 | 5 | 3 | 2 | 0 |
| Aria Khan | 84.5 | 10 | 5 | 4 | 1 | 0 |
| Jiwon Lee | 84.5 | 10 | 4 | 5 | 1 | 0 |
| Aathque Maraickar Abdul | 83.5 | 10 | 3 | 6 | 1 | 0 |
| Diya Suresh | 83.5 | 10 | 5 | 3 | 2 | 0 |
| Stacey Wilson | 83.5 | 10 | 5 | 3 | 2 | 0 |
| Muniba Muhammad | 83 | 10 | 4 | 4 | 2 | 0 |
| Jacob George | 82 | 10 | 3 | 5 | 2 | 0 |
| Veer Vij | 82 | 10 | 2 | 7 | 1 | 0 |
| Nathalie Roy | 81.5 | 10 | 2 | 6 | 2 | 0 |
| Aryaveer Monteiro | 80.5 | 9 | 8 | 1 | 0 | 0 |
| Aidah Parvez | 80.5 | 9 | 8 | 1 | 0 | 0 |
| Shivam Raigaga | 80.5 | 10 | 2 | 5 | 3 | 0 |
| Rami Touqan | 80.5 | 10 | 3 | 4 | 3 | 0 |
| Alizeh Zaman | 80.5 | 10 | 1 | 8 | 1 | 0 |
| Yasir Al-Omar | 80 | 10 | 2 | 6 | 2 | 0 |
| Maria Messac | 80 | 9 | 8 | 1 | 0 | 0 |
| Leann Qadan | 80 | 9 | 8 | 1 | 0 | 0 |
| Zhanru Ye | 79.5 | 10 | 4 | 2 | 3 | 1 |
| Rishit Bhandari | 79.0 | 9 | 6 | 3 | 0 | 0 |
| Iman Ameerzeb | 78.5 | 9 | 6 | 3 | 0 | 0 |
| Zoya Asim | 78 | 9 | 5 | 4 | 0 | 0 |
| Rohan Bahadur | 78 | 10 | 1 | 5 | 4 | 0 |
| Krish Mahtani | 78 | 9 | 5 | 4 | 0 | 0 |
| Rhea Upase | 78 | 9 | 7 | 1 | 1 | 0 |
| Talia Aly | 78 | 9 | 6 | 3 | 0 | 0 |
| Subhan Amin | 77.5 | 10 | 2 | 4 | 3 | 1 |
| Arianna Bhavnani | 77.5 | 10 | 1 | 6 | 2 | 1 |
| Amaya Mahajan | 77.5 | 9 | 5 | 4 | 0 | 0 |
| Gabrianne Wee Hsuen Li | 77.5 | 9 | 5 | 4 | 0 | 0 |
| Inesh Mukherjee | 77.5 | 9 | 6 | 2 | 1 | 0 |
| Tarini Bahadur | 77 | 9 | 5 | 4 | 0 | 0 |
| Hasan Habib | 77 | 9 | 6 | 2 | 1 | 0 |