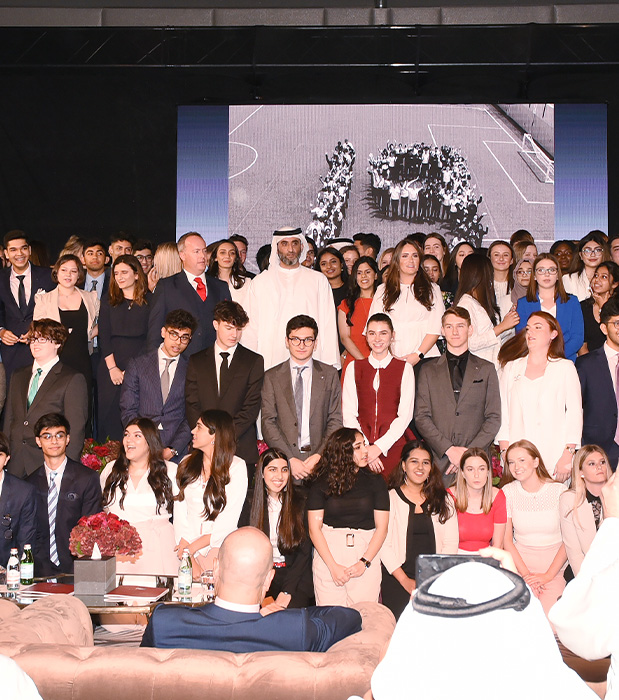 Our Alumni
Where Are They Now?
Jumeirah College students have consistently produced outstanding exam results and some of our former students have gone on to be extremely successful within their chosen university courses and employment.
The JC alumni consist of hundreds of success stories, in the fields of; medicine, law, business, finance, music, the creative industries and sport to name but a few. We are always keen to hear from our former students and find out where in the world they are and what they are doing. This information is crucial in helping inspire our current students to plan ahead and reach their potential university or career goals.
Mark Matthews (Class of 2016)
Currently: Head of 2nd Year BA (Hons) Creative Lighting Control at London's International Drama School
Started in Jumeirah College when it was also a primary school then moved to JPS when the building opened. Mark left GEMS Education from Year 3-6 and then returned to JC for his entire secondary education (Years 7-13). Mark graduated in 2016 with three A-Levels: Applied Business Studies (B); ICT (C); Drama and Theatre Studies (B). Mark is currently Head of 2nd Year BA (Hons) Creative Lighting Control at London's International Drama School.
Mark says:
"Jumeirah College has a very positive and secure environment which allowed me to explore areas and skills which I never thought I would be able to do and excel in my studies whilst being there. Jumeirah College provided me with the experience and connections in Dubai to be able to seek placements and networking whilst studying there. Being a student with Dyslexia and doing A-Level Drama was not an easy task with all the essays and reading. However, Miss Gemma Thornley, who was my Drama Teacher for A-Level and my GCSE English Teacher spent a lot of time with me and created a secure working environment, which allowed me to succeed in my A-Levels and to pursue my passion for lighting."
Fady Anis (Class of 2014)
Currently: Studying Medicine at Nottingham University
Fady started at Jumeirah Primary School in Year 5 and continued into Jumeirah College until the end of Year 13, graduating in 2014. Fady graduated with four A Levels: Chemistry (A); Physics (A); Maths (A); Biology (A); and two AS Levels: Further Maths (A); EPQ (B). Fady was awarded an Academic Excellence Award for his AS Level grades. Fady graduated with First Class Honours in Medical Science, taking him half way through his medicine degree at Nottingham University.
Fady says:
"There is a culture within Jumeirah College that ensures students are pushed to their limits academically. The school possesses a flexible system by which students who perform well in exams are encouraged to sit additional GCSEs & A levels at an earlier stage. These opportunities undoubtedly made my application to university more competitive, helping me receive an offer to study medicine. I am most grateful for the support I received during the university application process. The school organised mock interviews and also advised me on an infinite number of personal statement drafts to ensure that the application we sent off was perfect.Reflecting on my school experience has made me appreciate that the diligence expected from students at Jumeirah College, contributes to the discipline I have towards my university studies (an essential quality when balancing university life) and as a result I have high expectations of what I can achieve and therefore set myself challenging goals."
Milli Midwood (Class of 2010)
Currently: Owns a creative content company in Dubai
Milli started Jumeirah College in Year 7 and left after the end of Year 13. Milli was active in Music and Art activities and graduated with three A-Levels: Art (A); Psychology (B); English (B). Now Milli has her own creative content company in Dubai.
Milli says:
"Some of the best years of my life were spent at school. When I graduated in 2010, I moved to Liverpool to study psychology. After just one term, I realised I had made a big mistake and moved back to Dubai with absolutely no plans or idea of what I wanted to do. I felt defeated, unmotivated and bit of a failure. One trip to JC to chat to my old tutors soon changed that. My art teacher reminded me of my passion for creating, my English teacher reminded me of my passion for storytelling, my music teacher reminded me of my love for performing and presenting and my careers adviser reminded me that starting again doesn't mean you've failed. With the help of all my teachers, I reapplied through UCAS and received an unconditional letter to study Fine Art at the University of Kent, where I went on to find my real creative passion and get my dream job. I now work in fashion where I write and present/host - all thanks to the skills I picked up in my A Level subjects. None of this would have been possible without the sheer amount of support and positivity I received from the school. I am still in touch with all my old teachers and I visit the school regularly to meet the new students and offer any guidance I can. I have never been particularly 'academic' -numbers and equations are a foreign language that I've never been able to get my head around, so one of the things I'm most thankful for at JC is their ability to nurture and enrich my creativity. There can be quite a stigma around subjects like art, but the school really helped me find my way and I couldn't be happier with where I'm at now."
Bethan Phipps (Class of 2009)
Currently: Started her own chiropractic practice with her partner
Bethan started at Jumeirah College in Year 5 and graduated at the end of Year 13 in 2009 with three A-Levels: Psychology (B); Art (B); Biology (C). Bethan was Head of the Arts, Drama and Music in her final year and went on to graduate in Masters of Chiropractic in 2014. Since, Bethan has moved to the Netherlands, learnt Dutch and started her own chiropractic practice with her partner.
Bethan says:
"The education at Jumeirah College has given me a steadfast foundation in pursuing my career. JC not only provided me with world class education but the array of extra-curricular activities on offer provide students with a well-rounded experience. The staff/student relationship is one of mutual respect and maturity, which invites great support, confidence and continual self-development. In the university/UCAS process, the staff at JC provided support and direction and supported my choice in career. They also gave me the opportunity to have a mock medical interview to prepare me for the university interview process.Even eight years on, GEMS education and core values have resonated through my career and will continue to do so."


Here are some of the recent university career decisions made by our alumni:
GEMS Alumni
At GEMS we aim to build a lifelong relationship with our students, starting with strong engagement through the student experience and maintaining this relationship whilst students begin their university courses or professional careers. From this point we deliver a range of engagement activities to support our alumni as they progress through the different stages of their professional lives and beyond. The diverse range of activities ensures all students have an opportunity to stay connected and engaged with former classmates who have shared the GEMS experience.
How GEMS Alumni can support you
As a member of the GEMS Alumni Community, you can avail of a wide-ranging list of benefits such as:
| | |
| --- | --- |
| Opportunities to reconnect with former classmates in a meaningful way | Access to alumni events; class reunions and other social events |
| Opportunities for career support and development upon completion of schooling | Access to global alumni to develop professional networking opportunities |
| Rewards & Discounts on selected products and services | |
How you can make a difference
Whether you have gone on to complete a degree, start your career, or continue with lifelong learning, you are living proof of the power of education. You can share this knowledge and experience with current students who are pursuing the same goal as you, and be a part of their success.
By working together with GEMS, you can:
How To Follow Us
We are looking to continue to build stronger and long lasting relationships and links with our alumni and we are always open for them to share their experiences first hand with our students, whether that be through career talks, mentoring schemes or contacts for work experience.
If you would like to share your experiences on how Jumeirah College has prepared you for university and your chosen career, we would love to hear from you. Please email [email protected]
Don't forget to follow the JC Alumni LinkedIn page at the link below, for regular updates: https://www.linkedin.com/groups/5054472
JCD Alumni

Our former students have gone on to be extremely successful within their chosen university courses and employment.

School Accreditation

Jumeirah College is accredited to a number of internationally acclaimed education organisations

University Destinations

GEMS students are accepted by some of the world's most prestigious universities

Academic Success

A commitment to outstanding academic and personal excellence

Our Community

A motivated and aspirational community

High Performance Learning

Recognising and nurturing our individual student's potential