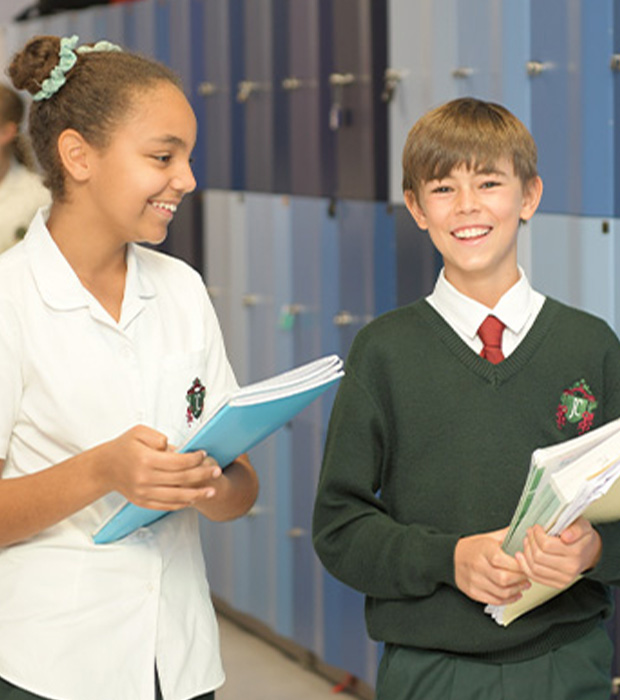 Important Information
School operation during Covid-19 pandemic
Over the course of the summer our Senior Leadership Team has worked closely with other schools within the GEMS network and the KHDA to develop guidelines and protocols that will ensure a safe return to school for your children. The guidelines here have been developed in partnership with parents and students and the KHDA, as well as drawing on scientific evidence and international best practice.
This guide is intended to best prepare you and your child for a successful and safe transition to blended learning for all in the first instance.
School Timings
Please click here to see the school timings.
Type of Education per Year Group
Students have the option to access all of their learning remotely if they wish to do so. For students who have opted for full-time remote learning, or are accessing part of their school week remotely; please see these guidelines to maintain online etiquette.
Year 7 , 8 and 9 Education
This table indicates the schedule for students of Year 7 to 9. They will have a 50% return to college, therefore accessing on-site learning on alternate days. This will be managed by houses to ensure siblings are in school on the same days. However, all live-teaching will be live-streamed to the teaching groups, so that students can still access the lessons on their remote learning days. Students will be taught in teaching groups, of limited size to ensure social distancing is maintained. They will stay in these groups for all lessons, as per KHDA/DHA regulations.
Week A and Week B rotate throughout the term for example: Week A begins in the week commencing 30th of August therefore Week B will commence in the week beginning 6th of September.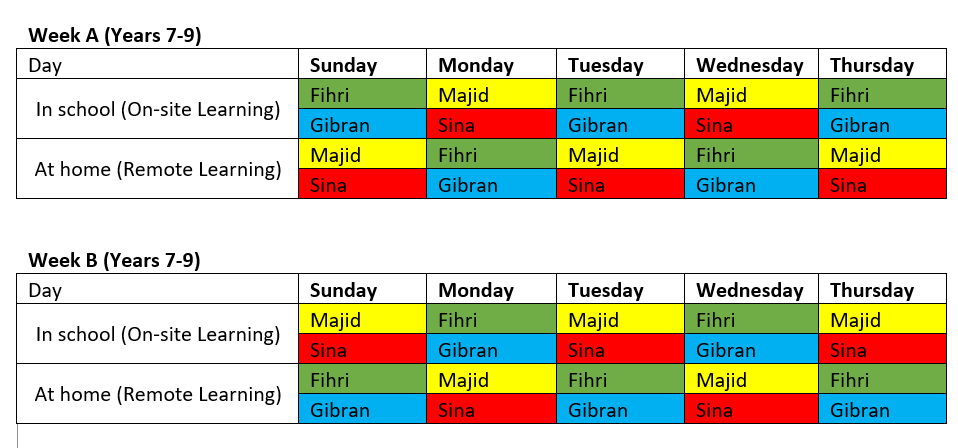 Years 10 and 11
Students will have 100% on-site learning. The aim is to deliver live teaching for core subjects, and then to begin expanding live teaching as the term progresses. Therefore for options subjects, students will complete on-site distance learning in the first instance.
Year 12 and 13
Years 12 and 13 will have 100% on-site learning, with 100% live teaching being the aim. This means that A Level students will follow their timetabled lessons with their specialist teachers. We are able to do this due to the smaller group sizes in the sixth form, which allows groups to be socially distanced while taught.
For more information please refer to this list of frequently asked questions.
Health and Safety Protocols
Masks can only protect you if worn properly. Please click on this poster to learn the correct way we expect our students and staff to wear it at Jumeirah College.
In order to raise health awareness among parents & school community, kindly find attached important parent awareness guideline on back to school during COVID-19 from Dubai Health Authorities.
School Policy on Suspected Cases
According to the DHA, KHDA and GEMS Policies, children and staff should stay home from school/work if displaying any of the following COVID-19 symptoms:
Fatigue and body aches

Diarrhea and nausea

Shortness of breath and difficulty breathing

Dry cough

Headache

Sore throat

Runny nose or nasal congestion

Loss of sense of smell or taste

Fever - you should not go to school/work if your temperature is greater than or equal to 37.5°C.
People need to be fever-free for 24 hours without the help of a fever-reducing medication before they return to school/work.
If your child is showing any of the following symptoms, developed in the morning or at night before sleeping, DO NOT SEND them to the school.
If the student comes with any of these symptoms, the medical team will consider the student as a suspected case, will isolate them right away and will be asking for a PCR test to be done.
If staff or student have symptoms at home, they need to see their physician and get medical certificate( their doctor will decide if PCR will be conducted or not). If their physician advice for PCR test, we also need the result together with the medical certificate. Only with medical certificate with the diagnosis fit to go back to school or negative PCR result will be accepted.
If the student traveled abroad, they need to have PCR done in UAE or complete the 14 days quarantine at home. If within the 14 days quarantine and the student develop symptoms, they have to seek medical advice including conducting PCR test.
If the staff or student is in contact with a positive case, they have to undergo 14 days quarantine. If symptoms start to develop, they should seek medical advice and PCR to be done. If no symptoms during the 14 days, they can come back to school.
If the staff or student is showing symptoms of a suspected case, they will be sent home and can only be accepted back in school after the negative result of PCR.