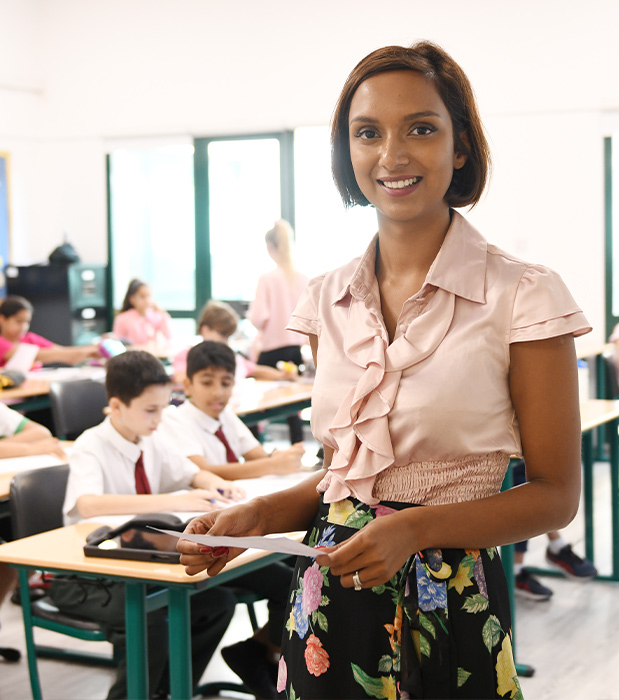 Meet Chandini Misra - Assistant Principal
Chandini Misra
Assistant Principal – Student Experience
Loves: Cooking, Bollywood
Mum of 2 boys
In Dubai since 2017 (originally from UK)
Chandini joined JC in September 2018
She moved to Dubai from the UK to follow her husband and shortly after arriving she had a baby boy. Chandini joined JC 9 months later as Assistant Principal.
Before Dubai she worked in schools in Leeds (Leeds City Academy) and in London (Bethnal Green Academy).
"It's a really warm and welcoming community at Jumeirah College, I would describe the teaching body here as friendly and supportive. Everyone understands the difficulty of starting a new job in a new country, so even with the overwhelming amounts of new information you can always ask anyone for help. There are long lasting friendships and professional relationships as a result".
Chandini found he context of students to be very different to what she experienced in the UK. She taught in challenging areas in the UK where the socio economic status of children was very different to Dubai.
"Students in Jumeirah College blew me away, they are amazing! There are no perceptions that tasks are too difficult, they will always rise to the challenge. They are very impressive and that is also a result of impressive teaching"
-
At Jumeirah College, Chandini has witnessed some of the best lessons in her teaching career to date. She is continually challenged to think about how to improve; not only as a teaching practitioner but also as a school leader. She believes that every staff member holds the students at the heart of what they do. "The staff body is hardworking, creative and collaborative; and as a result the quality of teaching is incredibly high". Chandini finds that that Jumeirah College's ethos and culture is what makes it unique. The whole community works together, to ensure that students are happy, which in turn makes them successful.
Some of her proudest moments are seeing the students develop as leaders. Chandini said "The great thing about our students is that you give them an opportunity and they will fully embrace it. The training we provide helps them to understand that leadership is not a straightforward skillset; and the impact that their effective leadership can have after they leave school. When given an area of responsibility, the students will go the extra mile to make it successful. It is the kind of attitude you would want to see in your own children. Always wanting to help and always wanting to have impact. And that is one of the most rewarding things".
Chandini is a mum to two young boys, enjoys cooking and is a Bollywood enthusiast. "I have found Dubai a great place to move with young children; we quickly settled in and made friends. I love that diversity is championed and celebrated."