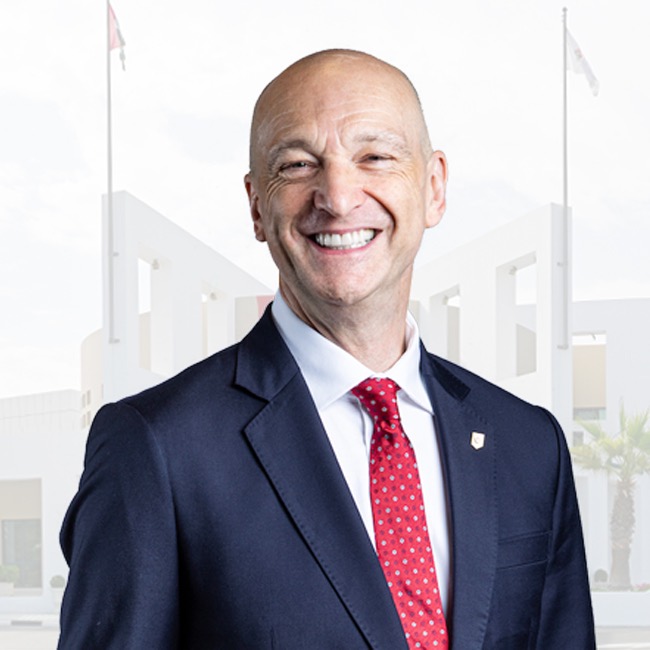 Statement of Intent
Mr. Marc Morris
I am very much looking forward to joining the Jumeirah College community in August. During the course of the last few months, I have been meeting with key stakeholders at Jumeirah College in preparation for the next academic year. I am particularly grateful to Simon O'Connor who has been generous with his time and patient in response to my many questions. We continue to meet on a regular basis as part of the ongoing handover arrangements.
The meetings with the senior leadership team, the Local Advisory Board and the Parent group were very positive, constructive and enjoyable from my perspective. Jumeirah College is clearly a very successful and outstanding school and I am keen to work with all stakeholders to develop a shared and collaborative vision of how we continue to move the school forward whilst maintaining the current high standards and expectations.
I want to build on previous achievements and create a climate that is receptive to the need for an honest appraisal of the many facets of school life. This requires that all are encouraged and stimulated to participate and contribute and that they perceive that their participation and contributions are taken seriously. This allows the institution to challenge complacency and orthodoxy constructively and facilitates a relentless focus on the shared vision for outstanding achievement.
Central to effective school leadership is the need for an explicit educational philosophy. Put simplistically - my focus is on four key areas of guarantee and expectation: that students will be happy, safe and healthy; will be offered a broad and balanced curriculum with genuine academic rigour; will have access to a wide variety of extra-curricular and creative opportunities; and will make a sustained contribution to the community in its widest sense – locally, nationally and globally. It is vitally important that students leave with a sense of self-esteem and self-awareness, able to take their place in professional life in the fast changing world of the 21st century. International mindedness and a global perspective is an integral requirement of a first class education, inculcating sustainable, principled and balanced values in today's young people.
I am acutely aware of the need for Jumeirah College to be flexible as it prepares for the September restart in very challenging and unusual global circumstances. I will continue to work with my senior colleagues and the GEMS support team in response to additional government/KHDA announcements regarding the new academic year. We promise to keep you appraised of developments.
I look forward to joining you in August and meeting you all at the earliest opportunity.
Stay safe and take care,
Marc Morris
Principal
Jumeirah College