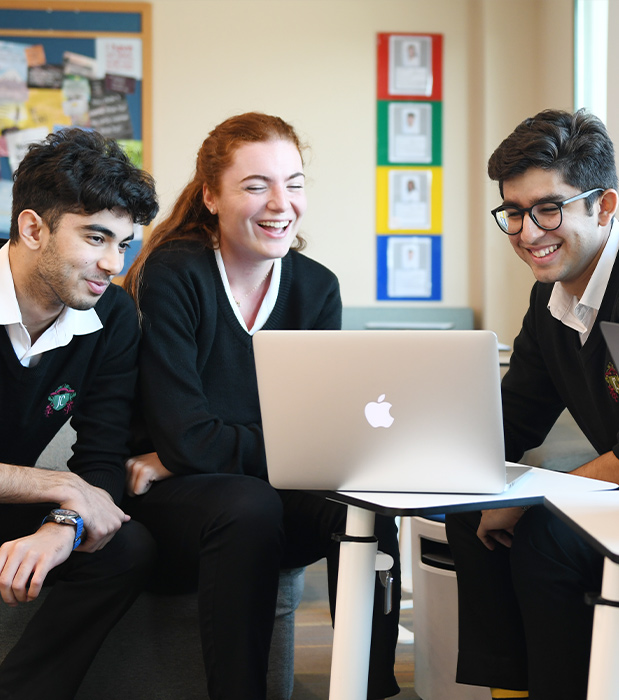 Student Stories
Meet Our Students
Olivia – Year 13
I have been at Jumeirah College since Year 7 and I have always loved it. I am now in Year 13, studying economics, English, and sociology at A Level. We have a really nice community atmosphere here - everyone supports each other, no matter who you are or what you do. I have been a part of several sports teams, committees, and leadership positions throughout my time here; there are so many opportunities available, all you have to do is be willing to get involved. We are a relatively small school compared to others here in Dubai, but that really adds to the friendly vibe that makes us comfortable to be ourselves. I'm going to university next year, and whilst leaving Jumeirah College is a scary thought, I am confident that it has prepared me for the outside world and I will definitely be back to visit.
Amir – Year 13
I am currently studying maths, further maths, chemistry and physics for my A Levels. At university, I hope to pursue a combination of mechanical engineering and computer science and use those skills to have a meaningful impact on the world. The energetic and enthusiastic community at Jumeirah College has helped me foster a genuine love for learning. In our lessons, teachers prompt us to think about the wider implications of basic scientific concepts, while countless opportunities outside lessons help us explore non-academic interests like sports or robotics. I am truly grateful for everything that Jumeirah College has done and for the community of lifelong friends and memories it has given me.
Alina – Year 10
Being a student at Jumeirah College allows me to succeed in all of my subjects, as my teachers are fantastic and make sure that each student understands the concepts and content taught in lessons. I am encouraged to aspire to be the best version of myself, which motivates and boosts my self-esteem. I am able to select my own goals, aspirations and passions. I love giving back to our community and I enjoy participating in the Charity Committee. Many leadership roles, committees and clubs are on offer at Jumeirah College, preparing us for life after school.
Devanshi – Year 9
Jumeirah College is a wonderful rollercoaster ride that I don't want to end. Every day is a new adventure. I will be choosing my GCSE options soon, which means reducing the number of subjects I study on a daily basis to just the core subjects and four others of my choice. It seems almost impossible as I love so many subjects and enjoy how different they are from each other. My teachers help me absorb the past, present and potential future of our modern world and that is what gets me out of bed every morning.